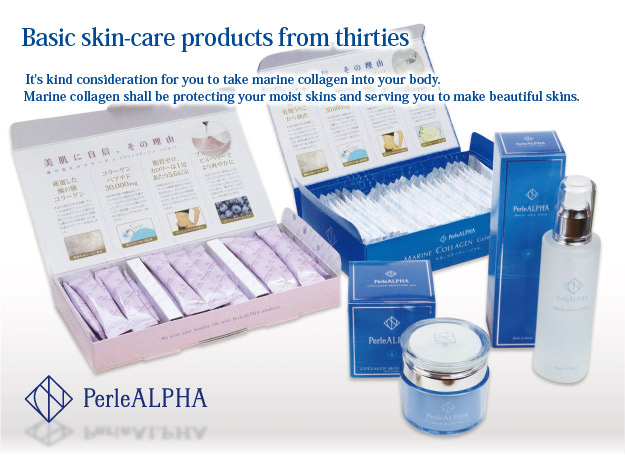 Wonderful encounter to Marine collagen [Extracted from dried porgy scale]
The reason I have the particular about Marine collagen is my wishing to relieve Mother from her knee and ankle's pain in about 15years ago.
I was late thirties at that time and getting worry about the tension of skin.
There were many kinds of collagen powder, drink and jelly types but almost of them were made by beef/pork/chickens' skin and bones. Each size of molecule of those animal collagen's protein (amino acid) is quite large one. So that such a large size of molecule cannot be absorbed into the body properly. Almost of them are excreted from the body.
After quite some time I had managed to find the marine collagen which were made by salmon's skin and bones but that collagen has quite fishy smell. So that I was not interested in such a marine collagen. A few years later I have been introduced Marine collagen which is extracted from dried porgy's scale research and developed by the special team in Tottori-pref., Japan.
Our marline collagen' size is 1/100 of low molecular compared with the normal marine collagen. So that such a low molecular collagen can be absorbed into the body quickly and make you the healthy and keep your smooth skin condition.
In this connection I may add the one story about one of the famous large manufacturers. Such a large producer has the certain brand and reputation so that they can sell the standard level of marine collagen by low price advertising as the top level of marine collagen. They are interested in the result of sales under the low cost. Perlealpha has no reputation but managed to create the real high quality of marine collagen in the market with the reasonable price.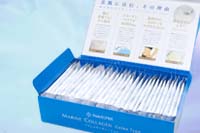 Marine collagen glee type
Tasty, easy-to-drink, refresh and elastic collagen as it is. Add lemon flavor for more tasty one for daily consumption.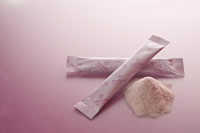 Marine collagen powder in stick type
Marine collagen by the powder mixed with the essence of blueberry and bilberry which effects for the eyes.
PerleALPHA skin care products

I was using the famous cosmetics and skin care products until middle age of thirties. There were so many kinds and steps of their skin care products in the morning and night under one brand. I was really confused which one for what, how to apply, when I should use & etc.
I was very busy to work and had to spend more than a few hundred thousand for 1 skin care set.

About the skin care, I was using the expensive marine collagen lotion to have moisture effect into my face during the winter time. One time I was discouraged to know about my skin type which surface as greasy and sebum part as dry though the skin check. I have come to know that it's no point for me to use many kinds of skin care products spending the expensive skin care items.

Through such an experience, I have started thinking to create our original skin care products with rich marine collagen by the reasonable price but its quality should be as same level as the famous skin care manufacturers.

After my thorough investigation about the skin care products, I have come to know that it's not necessary for us to apply so many kinds of skin care lotions and cream.?The point to maintain the smooth skin is to apply low molecular marine collagen as same as marine collagen supplement.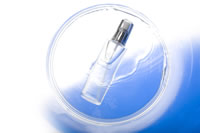 Marine collagen extra lotion
During my investigation for the skin care items I have used to take the marine collagen liquid extracted from the dry porgy scale once a day. One day I have put that marine collagen liquid mixed into my lotion and continued to apply to my face. About 2 weeks later I have found that my face has been become to the mild and smooth skin. So I have decided to make our original lotion mixed with the low molecular marine collagen. This is the story of the birth on PerleALPHA Marine Extra Lotion.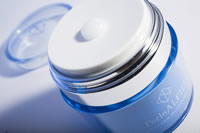 Marine collagen moisture gel cream
Simple is the best. If so many kinds of skin care products must be applied every time, it takes quite time and forgettable which one should be applied on what step. To escape from such a stress, we have researched how to go for simple way on our daily skin care. Finally we have reached to our Marine collagen gel cream which has four function mixed with the lotion, essence, milky lotion and moisture cream by the rich marine collagen.
---
People have different types of skin condition. So this is the one suggestion from us. After washing your face in the morning, apply Extra lotion and after taking your bath in the night apply Extra lotion and Gel cream together. If you wish to have more moist feeling in the morning, apply Extra lotion and Gel cream together both in the morning and night. So that you could make your skin by more high moisturizing capacity.

We are very happy to assist you to solve your health and skin troubles and wishing all the best and your healthy life and skin care.

Thank you for your attention on our story of PerlALPHA products.
PerleALPHA
Fujiko Akai/CEO