WHAT'S PerleALPHA?
WHAT'S PerleALPHA? It's rich marine collagen.
The name "PerleALPHA" 's "perle" is the meaning of pearl in French.
We have named our products by "PerleALPHA" wishing to provide our products for beautiful, bright and silky skin like pearl to the customers.
We produce our products by the highly selected materials to supply rich and high quality collagen to the customers.
Taking PerleALPHA collagen products through the daily intake, we are sure that you will find the healthy and beautiful skin & body in yourself.
The package design represents our wish that the high-quality collagen make your life more affluent and healthy by the drop of our collagen.
Golden ratio---for human, the most balanced and beautiful ratio.
We can see this ratio in natural beauty as petals or spiral of seashell.
The mark of "α" on the package is the symbol of "nature", "life" and "beauty", and PerleALPHA is a "crystal of beauty" made with the blessing from nature.
Our policy and concept on PerleALPHA marine collagen products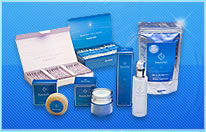 Our concept of PerleALPHA is safety and healthy products and cosmetics which made with highly selected and good-quality Marine collagen.
It's made with easy-to-absorb integrants extracted from natural materials, and the grains of the extracted collagen is smaller than other company, so PerleALPHA is absorbed from skin and insides very quickly.
Therefore, you can recognize the effects immediately.
As food have freshness, cosmetics also have freshness.
We do take care for the freshness of our products since plenty of natural materials used for PerleALPHA products.
So that PerleALPHA products are manufactured by the plenty lot to supply fresh one to you.
PerelALPHA marine collagen products bring you enriched skin and moisture retention.